Angel Courses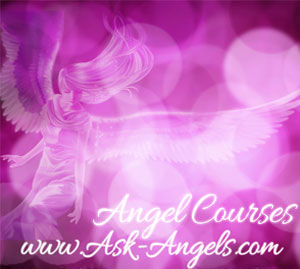 At all times, you have the ability to connect with your angels for help in your life. The Angel Courses found below are designed to help you practice connecting with your angels and progressing forward on your spiritual path. 
Scroll down to view all of our most recent angel courses and spiritual courses.
When you purchase an Angel Course, you will receive instant access to a downloadable .MP3 audio file that you can download to your computer or hand-held device to enjoy time and time again. Each channeled message is blended to the beautiful channeled music of Thaddeus and will help you quickly quiet your mind and open your heart to connect with your guides and angels of the light.
During this process of ascending to the angelic realms, your energies will be cleansed, your chakras will be balanced and you will feel energetically uplifted. After the meditations you will feel an elevation in your mood and an increase in your energy.
You have the ability to reach elevated levels of consciousness and these angel courses are designed to help you along your unique path allowing you to uncover the story of your soul's path, one course component at a time.
Whether you are simply learning to connect with your angels, or if you are already  an angel practitioner and looking to strengthen your connection to your angels, I'm here to help! Click button next to any of the angel courses below to learn more.
How to Receive Angelic Guidance- Angel Course: $97
| | | |
| --- | --- | --- |
| | Learn to clear and elevate your energy and open your subtle senses to receive clear angelic guidance for yourself. In this powerful new multi-part angel course with Archangel Michael channeled by Melanie Beckler you will learn to receive guidance from your angels. | |
Angel Energy Healing Training: $297
| | | |
| --- | --- | --- |
| | Learn to channel Angel Energy Healing for yourself, and to heal and uplift others. This course consists of a 29 Page .PDF Course eBook as well as 9 .MP3 Channeled Audio Components which you can download instantly. You'll also get transcriptions of all the audio course components. Once you become activated and allow Angel Energy Healing to flow through you, this energy of the Divine, and of the Angels will always be available to you. | |
Empowering Your Spiritual Gifts: $97
| | | |
| --- | --- | --- |
| | Elevate Your Vibration and Empower your Spiritual Gifts. Archangel Michael, Archangel Uriel, Orion, and the Council of Light connect in this Angel Course, which is complete with powerful guidance, and a healing, uplifting frequency to help you step into embodying more of your spiritual light, accelerating your spiritual growth, and revealing your spiritual gifts and abilities. | |
Ascension Angel Course: $97
| | | |
| --- | --- | --- |
| | Are you ready to make the conscious choice to embody an enlightened perspective and to experience an ascended state of being? This Angel Course will help you to progress on your ascension path in to higher levels of love and light. | |
Psychic Protection Angel Course~ $47
| | | |
| --- | --- | --- |
| | Psychic Protection, otherwise known as Spiritual Self Defense, is the process of clearing your energy and protecting yourself on an energetic level. This powerful angel course with Archangel Michael will teach you the basics of psychic protection... and more! | |
Experience Your Angels- Angel Course: $54
| | | |
| --- | --- | --- |
| | This angel course is made up of seven messages from the Archangels to assist you in activating and opening your chakras, lifting your vibration, connecting with your Guardian Angel, and then lifting even higher to experience your Higher Self and the realm of Archangels. | |
Past Life Regression With Your Angels~ Angel Course: $47
| | | |
| --- | --- | --- |
| | Tap into your Past Life Wisdom and Healing, Neutralize and Integrate Past Life Challenges, and Heal Past Life Karma in this powerful channeled angel course. This course is made up of four .MP3 audio components recorded with Archangel Metatron, Raziel, Michael, Haniel, and Orion. | |
Pendulum Dowsing With The Angels~ Angel Course: $97
| | | |
| --- | --- | --- |
| | Learn to work with your angels using a pendulum! In this course you will receive a 41 page .PDF Course Book, along with 5 .MP3 Guided Meditations to assist you in your journey of learning to Work With Your Angels. Start with the course book which will guide you to listen to the corresponding meditations at the appropriate time. Take your time going through this course at your own pace. | |
Angels of Prosperity and Abundance Angel Course: $87
| | | |
| --- | --- | --- |
| | The components of this Angel Course are channeled by Melanie Beckler, and set to the uplifting meditative music of Thaddeus. Learn to manifest prosperity in abundance with help from the Angelic Realm. | |
Wheel of the Year Angel Course: $97
| | | |
| --- | --- | --- |
| | Whether you are in the northern hemisphere or southern, the Earth's journey throughout the year is very symbolic of the journey of a human soul. Each season of the year is a reminder that your life is cyclical, and there is beauty to be found amidst change. Journey through the themes of the four seasons with the angels in this powerful multi-part angel course. | |